1. 6699 McArthur Boulevard, Bethesda, MD
Listed at 17.5 million, 6699 Macartur Boulevard is currently the most expensive home on the market in Maryland. The home was designed by architect Franck and Lohsen and built by Leonard Numi of CDC builders. This 12,000 square ft.home is really unique as it was designed to be a replica of the owners grandmothers house. According to Realtor.com, you can watch the sunset over the Potomac River from almost every room in the home!
2. 26310 St. Michaels Road, Easton, MD
Located between the Eastern Shore towns of St. Michaels and Easton, this property actually contains four separate residences including: 1.The main house (6 bedrooms/5 full baths/4 half bath) 2. The guest house (3 bedrooms/2 baths) 3. The guest cottage (1 bedroom/1 bathroom), and 4. he caretakers house (2 bedrooms/1 bathroom). There are tons of well-thought out design choices including, a WWII fighter plane replica hanging upside down in the great room of the main house, that really make this home one of a kind!
3. 725 Lands End Road, Centreville, MD
The 14,000 square ft. historic home sits on over 973 acres. This estate located on the Chester River has over 4000 feet of water frontage and is one of the largest tracts of land available in Queen Annes County. In addition to three guest houses, the property has a pool, tennis court, full skeet range, multiple barns, and eleven ponds.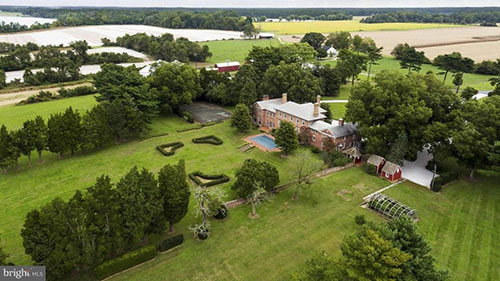 4. 5517 Pembrooke Road, Bethesda, MD
This almost 20,000 square ft. home sprawled across almost an acre and a half has 6 bedrooms, 8 full bathrooms, and 5 half bathrooms. The owner of this home will enjoy eight fireplaces, an indoor basketball/sport court, separate staff apartment, English Clubroom, wine cellar, pool house, reflecting pool, and 50 heated swimming pool!
5. 300 International Drive, Baltimore, MD
This 6500+ sq. ft. condo is located in the luxurious Four Seasons Private Residences located in downtown Baltimore and offers breathtaking views of the city and the water. The owner of this home can enjoy access to a plethora of amenities within the building including bars and lounges, a beauty salon and spa, billiard room, Concierge, Fitness Center, and Indoor Pool.