1. Terra Cafe
Where is it located: 101 E 25th St, Baltimore, MD 21218
What makes it cool: This Baltimore restaurant offers mouth-watering food from scratch, from the best chefs in Baltimore. Diners can get anything from breakfast food to dinner entrees. Terra Caf offers first class catering for any event.
Feedback: Excellent Food! Excellent Service! I believe the love they put in the food. Dont miss out on this place. Go with friends or family. You wont regret it.
Hours: Monday-Thursday 11am-9pm, Friday and Saturday 11am-11pm, and Sunday 11am-7pm.
https://www.terracafebmore.com
2. Land of Kush
Where is it located: 840 N Eutaw St, Baltimore, MD 21201
What makes it cool: They make some of the best sandwiches in town, alongside delicious smoothies and juices. It is an award-winning Vegan Soul Bistro that offers unbelievable prices for friends and family.
Feedback: Amazing service and amazing vegan food. Every time I visit Land of Kush I am pleased with their quality of food and the mere fact that vegan food can taste that good is amazing within itself! My favorite vegan restaurant hands down.
Hours: Monday-Saturday 11am-9pm and Sundays 10am-8pm.
3. Pure Chocolate by Jinji
Where is it located: 529 East Belvedere Ave, Baltimore, MD 21212
What makes it cool: They were voted best desert in Baltimore in 2016. They offer all types of different fudges, truffles, barks, pralines and many more novelty creations. Jinji chocolates are available in grocery stores and local restaurants.
Feedback: You never had chocolate like Jinjis! Wow!!! Stop by at Belvedere market and check his chocolate out. You will not regret it!
Hours: Monday-Thursday 10am-8pm, Friday-Saturday 10am-10pm and Sunday 10am-5pm
4. IDA B's Table
Where is it located: 235 Holliday St, Baltimore, MD 21202
What makes it cool: The IDA Bs Table has four distinct areas for guest to enjoy, the bar, the parlor, the drawing room and the main dining room. Diners can enjoy top quality soul food for either brunch, happy hour or dinner.
Feedback: Had a wonderful meal here. IDA Bs Table offers fantastic soul food in a chic setting, with excellent service!
Hours: Tuesday-Sunday 12-7pm, Mondays are closed. Brunch is open Saturday and Sunday 10am-3pm.
5. The Urban Oyster
Where is it located: 1704 Whetstone Way, Baltimore, MD 21230
What makes it cool: Diners that love seafood and a good burger can get just that at The Urban Oyster. They offer the best oysters in Baltimore with other amazing options.
Feedback: Love the concept of this place! I love the oysters at this local seafood spot. Definitely recommend it to anyone that enjoys seafood.
Hours: Closed on Monday, Tuesday-Thursday 12pm-9pm, Friday 12pm-10pm, Saturday 11am-10pm, and Sunday 11am-6pm.
https://www.theurbanoyster.com/menu
6. Isaiah Winters
What they do: Isaiah creates portrait and lifestyle photography in Baltimore, MD. He creates architecture, leading lines and interesting pops of color for his photos. Isaiah has received several awards and mentions for his excellent work. Baltimore Magazine heralded Isaiah and his work as their feature story of 2020, while FotoFilmic gave Isaiah the Stephen Shore Seminar Selectee award this year, as well. Isaiah was also the guest speaker at the Google Pixel 3 NYC Launch in 2018. Follow his incredible art via Instagram or email him to learn more about his work.
Contact: Email- hello@isaiahrw.com
7. Jessica Jenelle
What they do: Jessica is a Wedding & Elopement Planner based out of the Washington D.C. metropolitan area. Her services include planning the logistics and locations for photoshoots as well as orchestrating the numerous tasks for a wedding. Jessicas team is passport ready as they have flown to 2 different countries and all over the U.S. to make dream weddings and events happen! They offer full-planning weddings services, which allows for couples and their families to have a stress-free experience.
Contact: jessicajevents@gmail.com
8. Tia Nicole
What they do: Tia is an Art Director, Photographer and cultured creator and curator. She pairs artwork together in new and compelling ways. From food art, to models or fashion, the aesthetic is compelling. Instagram followers can find a link to her Etsy shop, where they can view and purchase her clothing designs.
Contact: Email- fouronehblog@gmail.com
9. Essence of Lotus Body Care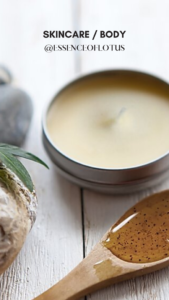 What they do: Essence of Lotus focuses on featuring their signature item - a handcrafted essential oil that moisturizes as well. Instagram followers can check out all the different types of moisturizers offered through the link on their Instagram page. Essence of Lotus is the creator of delectable smoothie moisturizers, as well as nature-based oil essentials.
Contact: Email- essenceoflotusllc@gmail.com
10. Mebane Design Studio
What they do: Mebane Design Studio offers a voice to traditionally underestimated people, ideas and causes so more of us can share ourselves with the world. By visiting their Instagram, followers can check out anything from product packaging to experiential design for events, just to name a few! Mebane Design offers top marketing techniques for products and companies around the world.
Contact: Email- brandi@mebanedesignstudio.com